EARLY YEARS
 Born 30th Sept, 1966, in Cooma, the last big town between Canberra and the NSW ski fields, Angus James Taylor was the son of Peter Charles Taylor [1] and Anne Beatrix Hudson, a daughter of Sir William Hudson and Annie Eileen Trotter. [2] [9] His paternal grandmother was of Jewish descent although he has been accused of anti-semitism. [10]

In an early version of his Wikipedia page, before alterations by his wife in 2014, it was noted that his father was heavily involved in agricultural politics, as a President of the NSW Farmers and Vice President of the National Farmers Federation.
His New Zealand born maternal grandfather, Sir William Hudson, was the chief engineer for the Snowy Mountains Hydro-Electricity Scheme and a legendary figure throughout the district. Hudson's funeral was one of the biggest in the town's history. Taylor was 12. [1]
 Taylor wrote, 'Part of my own family's story of the Great War is the pain of one brother dying, while the other survived. My grandfather William Hudson (1896 – 1978) served on the Western Front when he was 17 and was badly injured in a bayonet attack at Bullecourt. He always had a limp. My great uncle Athol, his brother, was killed. My great uncle was a sniper. I have his army issue sniper binoculars in a leather case, engraved with his initials. They are all the more treasured because they were returned to his family by the Germans after the war. It was a tragedy many families experienced.' [4]
 Taylor's parents owned a farm, 'Bobingah' in Nimmitabel, a village sometimes described as NSW's coldest. [1]
 His mother died at 48. He was 22.The SMH of Oct 1, 1988 recorded;

Soon after, wool and beef prices collapsed. His grieving father struggled with the financial and emotional pressure. "It was an awful time," Taylor says.[1]
EDUCATION
 While studying law and economics at Sydney University, Taylor became
interested in politics but couldn't take the student union scene seriously. He threw himself into life at St Andrews College, where he was elected head student. Taylor was awarded a Rhodes scholarship and went to Oxford University, where left-wing writer Naomi Wolf lived a few doors away. When she proposed banning the traditional Christmas tree, Taylor, a Christian, led a successful counter rebellion. [1] Naomi Wolf has said, in response, '
She said she "loves Christmas" and accused Taylor of antisemitic dog-whistling. "I was a Rhodes Scholar in Oxford 1985-88, Angus Taylor recalls me in a fever dream at Oxford in 1991 among those warring on Xmas. I was in NYC. Plus I love Christmas, Hannukah, Kwanzaa. Flattered to be on this mythological hate list." [10

Taylor, through a spokesman, "rejects any assertion he is anti-Semitic. In fact, his own grandmother was Jewish,"  [10]
Denise Meyer, a South African Rhodes Scholar who was at Oxford in 1991 recounts the story of her encounter with Taylor. 'Dear Angus Taylor,  When you say that you remember Naomi Wolf living a few doors down from you in Oxford 28 years ago, I wonder if you're mythologising a much less glamorous encounter with a fellow female student – me?
Naomi Wolf wasn't at New College when you and I were fellow Rhodes Scholars there in the early 1990s. She had been there in the 1980s, but she was long gone by then, riding the wave of publicity for her book, The Beauty Myth. Newly arrived from the patriarchal colonies, I was avidly reading the bestseller at the time – I would have noticed if Wolf was living among us or had come back to visit. She did not….

…You may not remember when I questioned you about your intention to join New College's covert men-only drinking society.
Known for an exclusive ball where female students receiving sought-after invitations were rated for beauty/sexiness in a secret members' competition, this not-so-secret club was populated with all the rowing club jocks and wealthy public school boys who dominated common room culture. We were just acquaintances, but you seemed like a nice guy. And I wanted to understand why you, and so many of your peers, were drawn to that environment.
So I asked. Had you thought about what it might feel like to be your female peer, barred from membership in your exclusive club and aware of the implicit evaluation of her taking place whether she was invited to the ball or not? About the message it sent me about where my worth lay and how I didn't fully belong? Were these really your values and what you stood for?
As I recall, your reaction to having your choices questioned was similar then to your reaction when Wolf refuted your story and called you out on your language – injured outrage and sulky resentment. And seeing yourself as the one in need of an apology. [18]
BEFORE POLITICS
 After graduating with a master of philosophy in economics, he applied for a job at McKinsey, the consulting firm where his older brother, Charlie, was already working.
His first big assignment wasn't exactly glamorous. Managing partner John Stuckey asked Taylor to help the highly regulated New Zealand diary industry resolve a problem that had bedevilled it for years: how to set a fair price for milk. The industry was intractably split between producers and a monopoly buyer: the New Zealand Dairy Board, which had the legal right to buy the milk products produced by the country's dairy farmers to sell in New Zealand and overseas.
 Most New Zealand farmers were members of one of two co-operatives: the New Zealand Dairy Group and Kiwi Cooperative Diaries. Naturally, the co-ops wanted the best price for their farmers but the farm-gate price was set by the Dairy Board. Farmers had no idea if they were being paid fairly and as a result didn't trust the Dairy Board. The industry turned to McKinsey for help. However, the tight-fisted farmers weren't prepared to pay for a partner and so Taylor took charge.
Taylor moved from Sydney to Auckland with his wife, Louise Clegg, a lawyer. He quickly decided someone needed to the bridge the trust gap between the farmers and the Dairy Board and that person was going to be him. "They screwed us down on price so we weren't able to staff it like we wanted to," Stuckey says. "That turned out to be good for Angus."
 His New Zealand success had given him the leverage at McKinsey to become a partner; a rare feat for someone with only five years' service.
 Then, in 1998, he got a call from Wellington. The industry was split, again. Its leaders saw huge potential from a growing Asian and South American middle-class eager for more fresh milk, cheese, infant formula and other dairy products. In 2000, Angus Taylor stood in an austere boardroom with views across Wellington Harbour, New Zealand. The most powerful men in the country's dairy industry sat around the table listening. These hard, driven men had been at war with each other for years, feuding over control of an industry that all of them believed could take on the world.
 The stakes were high. New Zealand's rich farmland had the potential to generate billions of dollars in sales from milk, cheese, cream, butter, infant formula and other dairy products. But would the industry choose to compete on the global stage?
 The quietly ambitious Taylor stood before them. He had spent four years working on a master plan: to unify the bitterly divided industry into a single national champion. To bring the men to this point, the McKinsey consultant and Rhodes Scholar had needed to use every fibre of his charm and intellect. It worked and Fonterra, the multi-national dairy co-operative owned by 10,600 farmers, was born.
 Fonterra's formation is sometimes cited as one of the most successful strategic decisions in agri-business history and the company is the subject of two Harvard Business School case studies. By the end of its first year, it was the largest company in New Zealand, the largest exporter of dairy products in the world and controlled a third of the world dairy trade. [3]
 FAILURE
Taylor left McKinsey after one of his few business failures.  During the first dotcom boom between 1997 and 2000, Taylor convinced McKinsey to back a pet project: The Farmshed. It turned out to be one of his biggest failures.
McKinsey and Taylor built an Amazon-like website that sold chemicals and other agricultural inputs and provided news and weather forecasts. Taylor convinced two rural-services companies, Wesfarmers Dalgety and Rural Press, to become shareholders and major suppliers. He relied on Wesfarmers to provide chemicals at cheap prices to undercut shops in towns across Australia that had served farmers for generations. But after a merger, Wesfarmers became one of the biggest players in rural services. Wesfarmers managing director, Richard Goyder, decided he didn't want to undercut his own business by selling products to Taylor cheaply. The online business failed with a loss of several million dollars.
"In hindsight, I think that was a mistake: trying to establish a new and aggressive business model within an incumbent player is very hard," Taylor says. He and Goyder remain on good terms. "It was years ahead of its time and we couldn't get it really going," Goyder says. "Angus is a really good, smart guy."
Although he'd been a McKinsey partner for just a few years, Taylor quit. Stuckey urged him to stay. He was concerned the failure had rattled the proud and driven young man. "I think maybe he felt he had let McKinsey down," Stuckey says.
Taylor denies this. He was doing so much travel he was one of Qantas's top 20 frequent flyers. The job had become too international, he says, and with a young family and an interest in politics, he understandably wanted to focus on Australia.
Taylor joined Port Jackson Partners, a Sydney-based consulting firm run by several former McKinsey partners. To manage stress, he ran triathlons. At 43 he represented Australia and came 31st in a world championship event.
Among Taylor's Sydney friends were Malcolm Turnbull, now Minister for Communications, and Bill Heffernan, the NSW Liberal senator and farmer. Heffernan introduced Taylor to John Howard at a Heart Foundation fundraising event where the former prime minister was speaking.
Howard was impressed by Taylor's business experience. "I think he has got enormous talent," Howard says. "It is a very good idea that we get as many people as possible who have had more life experience into politics." [3]
His business activities are summarised in the Parliamentary records;
Partner, McKinsey and Co 1994-2001.
Co-founder, shareholder and adviser, Farm Partnerships Australia and Growth Farms Australia from 1998.
Programme director, Rabobank's Farm Leadership Programmes from 1998.
Director, Port Jackson Partners from 2002.
Co-founder and director, Eastern Australia Irrigation from 2007. [11]
FAMILY LIFE
Mr Taylor, 44, who won a Rhodes Scholarship to Oxford after obtaining degrees in Economics and Law at Sydney University, is from a Monaro grazing family.
He is a top class tri-athlete, married to Sydney barrister Louise Clegg, and they have four children. [7] Louise Clegg, sits on the board of Gerard Henderson's right-wing Sydney Institute, Taylor is the perfect emblem of the modern Liberal Party: wealthy, privileged, connected and entitled. [10]
Despite his views on wind energy and Australia's renewable energy targets, Taylor completed Infigen Energy's November 2010 "Run with the Wind" event at its Woodlawn Wind Farm, winning his age category. [7]
INTO POLITICS
Among Taylor's Sydney friends were Malcolm Turnbull, now (2014) Minister for Communications, and Bill Heffernan, the NSW Liberal senator and farmer. Heffernan introduced Taylor to John Howard at a Heart Foundation fundraising event where the former prime minister was speaking.
Howard was impressed by Taylor's business experience. "I think he has got enormous talent," Howard says. "It is a very good idea that we get as many people as possible who have had more life experience into politics."
In late 2011 the Taylors, now with four children, moved from Woollahra, a wealthy suburb in Sydney's east, to Goulburn, a town of 22,000 an hour north of Canberra. Taylor was eyeing Hume, a federal electorate where the sitting Liberal MP, Alby Schultz, was retiring. Taylor's wife, Clegg, who had represented the federal government in the High Court on several important cases, suspended her career as a barrister and became his full-time press secretary and campaign aide.
Howard helped convince the National Party not to run a candidate against Taylor. In return the Liberals didn't stand in the northern NSW seat of Lyne vacated by independent Rob Oakeshott, which the Nationals badly wanted to win. Liberal Party leader Tony Abbott was briefed on Taylor and agreed to endorse him for the seat. Even with the support of the party elders the contest within the Liberal Party for the seat was bruising. Afterwards, Taylor said he could appreciate Shakespeare's Julius Caesar.
The arrival of the worldly Sydney couple to the rural area ruffled some of the local Liberal establishment. Goulburn Post editor Gerard Walsh wrote that Taylor was being "parachuted" into the seat. "I think Goulburn people were a little bit tentative about immediately embracing him," Walsh says. "He had no association with Goulburn."
Taylor visited the paper and turned the charm on. Walsh never used the word parachuted again.
Taylor organised his campaign with McKinsey-like efficiency. He boned up on US academic studies on voter behaviour. Spreadsheets were used to identify the number of voters in every village and town. Based on this data, weighted for areas with more swing voters, Taylor decided three months in advance, before the election date was announced, where he would spend the last six weeks of the campaign in half-day blocks. Small villages and rural areas were visited early, leaving him time in the last weeks to concentrate on larger towns where he would see more voters and local journalists.
"It was planned and executed like a military campaign in every way: strategic, methodical, but lots of flexibility built in," says Clegg. "There was barely a thing that happened in the last three months that was not scheduled."
On election day, 2013, more than a thousand people handed out Taylor how-to-vote cards. With no mainstream conservative rival, but facing a credible Labor opponent, he secured a 2.75 per cent swing. His campaign claimed it was the best result by any new Liberal replacing an incumbent. [3]
IN PARLIAMENT
After his election in 2013, Taylor caught the attention of the media, Aaron Patrick of the AFR in particular. He wrote an extensive article and ended with the following;

Whether Taylor's talent and work ethic will see him promoted to the ministry any time soon is not clear. There are Liberal MPs with far deeper political networks jostling for ministerial slots, including Christian Porter, Kelly O'Dwyer, Alan Tudge, Paul Fletcher and Josh Frydenberg.  
Taylor is working to establish his policy expertise. With fellow backbencher Dan Tehan he is leading a debate among Liberal MPs over cutting subsidies for wind farms, as he believes there are cheaper ways to encourage carbon abatement. He helped Agriculture Minister Barnaby Joyce negotiate rules governing wheat farmers' access to ports. (In 2012, he wrote Greener Pastures, a major report for ANZ arguing that Australia needed to invest more capital in agriculture to take advantage of the soft commodities boom.) 
Longer term, Taylor could become an important voice in the debate over the future of Australian industry. His brother Charlie, in his role as a McKinsey consultant, helped write an economic analysis this year for the Business Council of Australia (BCA) advocating a "national champions" approach to industry policy. It argued Australia has natural advantages in certain areas: mining, agriculture, education and tourism. 
In October, Industry Minister Ian Macfarlane turned the report into government policy – a huge victory for the BCA and its supporters, including Taylor, whose views on industry policy are shaped by his experience helping build one of New Zealand's great companies.'
His old boss at McKinsey, (John) Stuckey is fascinated to see if a businessman as accomplished as Taylor can succeed in politics. "I wonder if he will put up with playing the game – the compromise that is par for the course for politics," he said. "I would like to see him as a minister or prime minister. This guy has the stamina and perseverance to do that."[3]
WIND ENERGY
Before he became a Minister of the Crown, before he even became a parliamentarian, Taylor was active in the Wind Farms debate.
In a letter to the Crookwell Gazette (9 April 2013) he states that he became involved when a plan was announced to build turbines on a ridge behind his childhood home.
Taylor follows on from Schultz (now patron of the Waubra Foundation) as a staunch critic of wind energy technology and the wind energy industry. Taylor has called on the Coalition government to reduce its support for wind farms. [5] Taylor has taken aim at Australia's renewable energy target (RET) on the basis that renewable energy projects, in particular wind are driving up electricity costs and crowding out other cheaper carbon reduction methods."[5][6]
Before being elected, Taylor's hostility towards the RET was at odds within his party (then opposition) who supported Australia's renewable energy target, with fellow Liberal Ian MacFarlane saying "we support the RET. I am not sure Angus does." [5]
On April 1, 2014 Taylor joined conservative members of parliament (Pru Goward, Katrina Hodgkinson and John Barilaro) in a protest against wind farms which were planned for their electorates. [8]
TAYLOR THE POLITICIAN
 Taylor has since held numerous positions within the Parliament;

The official record shows his Parliamentary service
Ministerial appointments
Assistant Minister for Cities and Digital Transformation from 18.2.2016 to 20.12.2017.
Minister for Law Enforcement and Cybersecurity from 20.12.2017 to 28.8.2018.
Minister for Energy from 28.8.2018 to 29.5.2019.
Cabinet Minister from 28.8.2018.
Minister for Energy and Emissions Reduction from 29.5.2019.
Committee service
Joint Statutory: Public Accounts and Audit from 4.12.2013 to 2.2.2016.
Joint Standing: Parliamentary Library from 4.12.2013 to 2.2.2016; Treaties from 12.10.2015 to 22.2.2016 (Chair from 12.10.2015 to 22.2.2016).
Joint Select: Trade and Investment Growth from 25.9.2014 to 21.10.2015.
House of Representatives Standing: Tax and Revenue from 4.12.2013 to 9.5.2016; Infrastructure, Transport and Cities from 22.10.2015 to 2.2.2016.
Parliamentary party positions
Secretary of the Coalition Employment Policy Committee from 2013.
Party positions
Member of the Liberal Party Finance Committee (NSW) from 2008 to 2012. [11]
EVENTS OF NOTE
On 25 Oct, 2019, Crikey.com.au did a quick and dirty reference list to Taylor's activities and embarrassments since his election. These dot points are the next part of this discussion. [12]
After the knifing of former PM Malcolm Turnbull, Taylor took over the energy portfolio.
After Taylor's first speech as Energy Minister, a tipster told us the new minister barricaded himself in the "media room" for 30 minutes to avoid questions, before ducking out of a back door. [12]
'Taylor not energised. With the recent knifing reshuffle, Angus Taylor has just agreed to guzzle from the poisoned chalice of the energy portfolio — or, in typically Scott Morrison 'hardline conservatism masquerading as folksy common sense' speak, the "minister for getting electricity prices down". Taylor gave his first speech as minister yesterday at a small business summit in Sydney, and notably denied he was a climate skeptic. Apparently though, he was not so confident in his few policies that he was willing to answer any questions about them. A tipster at the event told us that, after his speech, he barricaded himself in the ironically named "media room" with all the doors closed for roughly half an hour before ducking out a back door as quick as he could. "Farcical" was how our tipster put it. '  [13]
As part of a Liberal campaign to discredit Bill Shorten's plan for electric vehicles, Taylor shared a

Top Gear

video of an electric car running out of charge mid-drive. Only problem was, the video had been faked. [12]
In April it was revealed that two years ago, the government had made a $79 million water buyback [https://www.crikey.com.au/2019/04/23/watergate-buybacks-explained/] from a subsidiary of a company of that Taylor directed and co-founded. Taylor said he had resigned from any roles in the company at the time of the buyback. [12]

'The energy minister, Angus Taylor, has denied he played a role in structuring the company which received an $80m government buyback of its water rights through the tax haven of the Cayman Islands.
Taylor, who was a director of Eastern Australia Agriculture between 2008 and 2009 and who described himself as a co-founder of the company, told ABC Radio National on Thursday morning he was involved only in advising on the agricultural side of the investment.
He said he severed all involvement in the company prior to being elected to parliament.
"I was a consultant and I was paid consultant's fees," he said. "That's what consultants do. I never had an interest in the company or any related company nor did any of my family members," he said.
"I concluded any relationship with the company before I entered parliament. I didn't receive any benefit from the buybacks; indeed I wasn't aware of them until some time after they happened," he said.
Further questions have emerged because EAA's parent is the company Eastern Australia Irrigation, which is based in the Caymans, a tax haven that reveals few details about the businesses based there.
Asked why he set up a company domiciled in the Caymans, Taylor said he had not been involved in that part of the deal but defended it as a common structure.
"This structure and domicile is common practice. It's used by many Australian super funds: CBus, Rest, Australian Super and the Future Fund," he said.
"The reason for this structure is very simple: it's to ensure that taxpayers pay tax, as they must, where they live.," he said.
"It's widely used by super funds and many, many of your listeners will be invested in these structures," he said.
Caymans is a tax haven so investors pay no tax in that jurisdiction. If the income on the investment is paid to an Australian taxpayer, it should be declared and taxed in Australia.
However, if the investor is foreign domiciled, as many of the investors in EAI were, then there is no Australian tax payable. Presumably the investors, which included a Hong Kong fund and a UK fund, were liable for tax in their countries, though many of the investors themselves were structured using tax havens.
Companies using tax havens also often use a variety of methods to lower the tax bills of the Australian company which is earning income from the activity, whether it is mining, agriculture or selling running shoes.
Commonly used measures include inter-company loans with high interest rates that reduce pre-tax earnings, marketing fees payable to the offshore entity by the Australian company and other forms of transfer pricing.
The Australian Taxation Office has clamped down on these as part of its anti-avoidance campaigns in recent years.
The 2017-18 EAA accounts show the Australian company had a $30m loan from the parent company, EAI, that was repaid in August 2017 after the water buyback earned the company $52m profit, however there is nothing to suggest it engaged in tax minimisation practices.
Its tax affairs were complex because the company had deferred tax losses due to losses made prior to the windfall of the water buyback.'
Read here and here for more information on the 'Great Darling River Water Heist'. These are screen-grabbed articles from the twitter feed of 'Ronnie Salt' and contain much interesting and potentially incriminating information.
Energy Minister Angus Taylor's Facebook page has been inundated with people earnestly commenting the exact phrase he was caught-out saying to himself earlier this week. It's funny and it's good because politics, as always, is dumb.
On Monday, a keen Twitter user noticed Taylor had commented on one of his own Facebook posts "Fantastic. Great move. Well done Angus."
The self-congratulatory comment was quickly deleted but not before it was screenshot and passed around the internet. A tweet of the whole mess has over 1,000 retweets and thousands of likes. [16]
In June, it was revealed that Taylor met with officials from the environment department and then-minister Josh Frydenberg's office at the same time that the department was investigating a company co-owned by Taylor's brother Richard. Taylor also had an interest in the company, through his family's investment company. [12]

The energy minister, Angus Taylor, held talks with federal environment officials over an issue at the centre of an illegal land-clearing action brought by the same department against a company part-owned by him and his brother, Guardian Australia can reveal.
Taylor, who was minister for cities at the time, had meetings in 2017 to discuss the federal government's designation of a critically endangered grassland species.
At the time of the meeting requests, federal and state investigations were under way into the alleged poisoning of 30 hectares that contained the grass species on a property in New South Wales's Monaro region owned by Jam Land Pty Ltd.
One of the directors of that company is Richard Taylor, the minister's brother, and the minister himself holds an interest in the firm via his family investment company, Gufee.
Angus Taylor has previously denied on the record that he intervened in the investigation of the alleged illegal clearing of the critically endangered grasslands on the property near Delegate.
In April, in response to the issue being raised in Senate estimates, a spokesperson for the minister told Guardian Australia: "The minister has not made any representations to federal or state authorities in relation to this investigation. This is entirely a matter for Jam Land."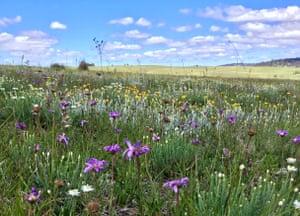 The ministerial code of conduct says ministers must "make arrangements to avoid conflicts of interests arising from their investments" and "it is critical that ministers do not use public office for private purposes".
In response to questions from the Guardian, Taylor today said he asked for meetings in his "capacity as the local member for Hume."
It can now be revealed that Taylor had detailed talks with senior department officials and the office of Josh Frydenberg – who was the environment minister at the time – about the very laws that were at the centre of the investigation involving his brother.
Documents obtained under freedom of information by Guardian Australia show Frydenberg's office in 2017 sought meetings for Taylor with department officials about the decision to upgrade protection of natural temperate grassland of the south-eastern highlands to critically endangered.
Emails obtained by Guardian Australia show Frydenberg's office raised the grasslands protections with the Department of the Environment and Energy on 8 March, just a day after officials from the same department met with Jam Land to discuss potential contraventions of the EPBC Act.
An email sent on 9 March on behalf of Geoff Richardson, the department's assistant secretary for the protected species and communities branch, records that Frydenberg's office pointed to "the recent email traffic on the natural temperate grassland of the south-eastern highlands EC [ecological community]".
"He [a person in Frydenberg's office whose name has been redacted] started quizzing me on the changed definition, and I gave him some basic information on the thresholds that were applied in the new listing in 2016," the email said.
"He is now keen for [redacted] and I to meet with Angus Taylor to answer questions on the technical aspects of the listing outcome.
"He made the point that for farmers in Monaro this is 'the number 1 issue' of concern for them."
"When I tried to draw him on how the 'issue' was manifesting, ie stopping them from doing stuff on their land, or confusion over the definition and therefore what might constitute a significant impact, he couldn't really explain it."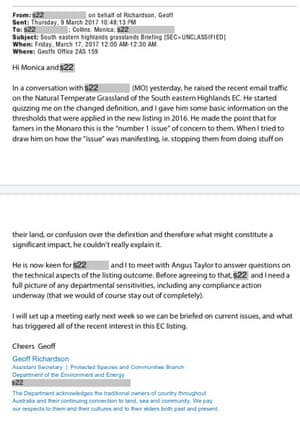 Richardson told his colleagues that before agreeing to a meeting, he needed a full picture of any "departmental sensitivities including any compliance action under way", noting that departmental officers would "stay out of that [the compliance action] completely".
The email went to senior department staff, including Monica Collins, who at that time was the department's assistant secretary for compliance and enforcement, the special office that manages investigations and prosecutions into breaches.
A day later Richardson sent another email saying they needed to get together to "fully understand the compliance action that is under way", highlighting that at least in the officials' minds, these requests for meetings were extremely sensitive.
But Frydenberg's office continued to push for a meeting between the department and Taylor.
"I am meeting with Angus Taylor at 11am on Monday at APH [Parliament House] to discuss the listing of the Monaro grasslands. Geoff, I need you there to discuss history, consultation, thresholds, practicalities, etc. Monica, it would be good to have you there also if you can make it," a person in the minister's office, whose name was redacted, wrote.
The Monaro region is not in Taylor's electorate although some of the critically endangered species do stretch into Hume.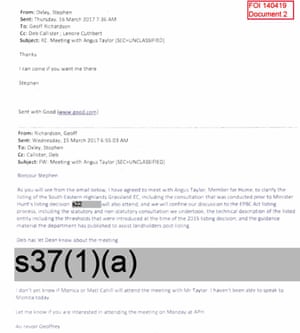 Richardson met with Taylor on 20 March. The department had prepared a briefing document on the grasslands which explained that the species had been protected since 2000 and that, collectively, temperate grasslands are among the most threatened vegetation in Australia, with only about 5% remaining in relatively undisturbed condition.
The briefing also stated there was wide consultation before the decision to upgrade the species to critically endangered was made.
"There is a perception of a significant burden, but the regulatory impact due to ecological community listings has historically been minor for individual landholders and agriculture," the department said.
In response to questions from Guardian Australia, Angus Taylor said: "In early 2017, I received a briefing in my capacity as the local member for Hume, on a revised listing under the Environmental Protection and Biodiversity Conservation Act 1999.
"The purpose of the briefing was to understand the technical aspects of the revised listing and its impact on those affected, which included many constituents in my electorate.
"I did not make any representations to federal or state authorities in relation to any compliance action being undertaken."
An environment and energy department spokesperson said the compliance official, Monica Collins, did not attend and has not attended any meeting with Taylor relating to grasslands or any other matter despite the emails showing she had been asked to.
But the department said it was aware of the compliance action involving Taylor's part-owned company prior to the meeting and the spokesperson said officials "did not discuss the matter with Taylor".
"The purpose of the meeting was to outline the technical aspects of the grasslands listing which had been raised as the number one issue of concern to farmers in the Monaro region," the spokesperson said.
On 24 March, Richardson wrote again to colleagues that "following our meeting with Angus Taylor on Monday, we are exploring options to deal with the concerns raised related to the natural temperate grasslands of the south-eastern highlands ecological community".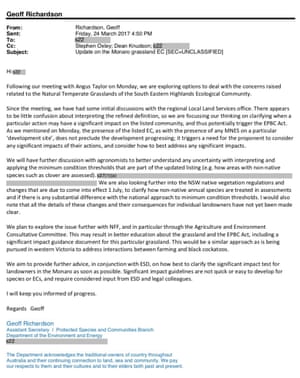 "Since the meeting, we have had some initial discussions with the regional Local Land Services office," the email said.
"There appears to be little confusion about interpreting the refined definition, so we are focusing our thinking on clarifying when a particular action may have a significant impact on the listed community, and thus potentially trigger the EPBC Act."
Emails sent in April show Taylor continued to raise his concerns with Frydenberg's office which then raised it with his department, though it is unclear whether there were more face-to-face meetings.
The emails show that by then the secretary of the environment department, Gordon de Brouwer, was being copied into discussions as the department pushed back on altering the laws.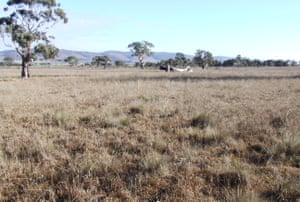 By late April the NSW environment department dropped its prosecution of Jam Land, saying the scientific evidence that native grassland had been cleared was inconclusive.
Guardian Australia sought additional documents regarding the federal investigation but these have been denied on the grounds that the investigation is ongoing.
The natural temperate grassland of the south-eastern highlands is still listed as critically endangered.
The department's spokesperson said "the compliance action in the Monaro is ongoing".
Labor is now threatening to go to the police over the allegedly forged document Taylor's office provided

The Daily Telegraph

to back up his attack on Moore. Taylor has denied the documents were the work of anyone in his office. [12]
Energy Minister Angus Taylor will face a formal request for a police investigation into his use of a false document in a dispute on climate change with Sydney lord mayor Clover Moore amid extraordinary claims of forgery and deceit.
Labor will seek the investigation on Friday unless Prime Minister Scott Morrison intervenes in the affair after Mr Taylor denied the "forgery" was the work of anyone in his office including himself.
Mr Taylor insisted in Parliament that he relied on a document downloaded from the City of Sydney website when he claimed the council spent $15.9 million on travel for its councillors when the real costs were less than $6,000.
But the City of Sydney dismissed his assertion on Thursday night by citing the metadata from its website to insist its statutory report had been unchanged online.
"We have provided conclusive metadata to prove our annual report documents have been available online, unchanged since November 2018," Ms Moore said in a statement.
"If the minister expects the public to believe his version of events, as implausible as they seem, it is incumbent on him to now provide evidence."
The computer records leave Mr Taylor exposed to claims that his office relied upon a false document, its creator unknown, to put public pressure on Ms Moore on climate change policy by sending the false information to the media.
Labor climate change spokesman Mark Butler said Mr Morrison should act on his assertion in the press freedom debate in recent days that nobody was above the law.
"This document is a forgery. It is a very serious forgery because it is a document made with the intent to exercise the operation of a public duty by a publicly elected official," Mr Butler said.
"Angus Taylor won't say whether or not it was made by him or his office or provided by someone else to him.
"He instead tries to pretend that this is not a forged document when all of the evidence is to the contrary."
Mr Butler said if the "scandal" was not referred to the NSW Police by the government, Labor would write to the NSW Police by Friday afternoon.
Section 253 of the NSW Crimes Act makes it an offence to make a false document with the intent to influence the exercise of a public duty, which carries a maximum penalty of 10 years in jail.
Mr Taylor relied on an incorrect version of page 14 of the City of Sydney's annual statutory report for the year to June 2018, which showed the cost of interstate visits by councillors while representing the council was "$14.2" and the cost of overseas visits by councillors was "$1.7".
The Energy Minister cited these figures to defend federal government policy on climate change and challenge Ms Moore.
"Given your most recent annual report shows your council spent $1.7 million on international travel and $14.2 million on domestic travel, there is a real opportunity for your council to make a meaningful contribution to reducing Australia's emissions," Mr Taylor wrote to Ms Moore.
Those figures were used soon afterwards in a news article in The Daily Telegraph, contrasting Ms Moore's calls for action on climate change with the apparently exorbitant travel costs. The newspaper reported on Thursday that the article was based on documents provided by Mr Taylor's office.
But the council's report said the cost of interstate travel by councillors while representing the council was $4,206.32 and the cost of international travel by councillors was $1,727.77.
Mr Butler challenged Mr Taylor in Question Time on Thursday to explain how the document was created, but the minister insisted it had been downloaded from the City of Sydney's website.
When Mr Butler asked if the "forgery" had been done by Mr Taylor or someone in his office, Mr Taylor replied: "No."
"Where did the minister get the forged document?" Mr Butler asked.
"I absolutely reject the premise of that question and bizarre assertions being peddled by those opposite," Mr Taylor replied.
Mr Butler referred to statements from the City of Sydney regarding its metadata, but Mr Taylor stood by his claim.
"The document was drawn from the City of Sydney website and it was publicly available," he told Parliament.
Angry that the false numbers were published by The Daily Telegraph on September 30 in a newspaper article, Ms Moore wrote to Mr Taylor this week asking him whether the "erroneous documents" originated in his office.
Ms Moore has lodged a complaint with the Australian Press Council over the newspaper article and wrote to Mr Taylor this week to ask where the false document originated.
"I want to provide you with the opportunity to respond: could you verify The Daily Telegraph's claims that the erroneous documents originated in your office, or is my office being misled by the newspaper's journalists?" she wrote.
"Providing false information to journalists and the public further erodes the community's confidence in elected representatives to lead and serve."
The Sydney Morning Herald and The Age lodged a Freedom of Information application with the government on Thursday seeking all documents, messages and notes related to the document within Mr Taylor's ministerial office.
Mr Butler argued that Mr Taylor's letter to the Lord Mayor, given to The Daily Telegraph, had the "clear intent" of putting public pressure on Ms Moore on her conduct on climate change. [17]

This matter, and others, are proceeding.
CONCLUSIONS
I am saying nothing at this stage as my private thoughts could well be libellous.
Additions to this Biography will be made as needed.
REFERENCES
[1] https://www.foreground.com.au/politics/who-is-angus-taylor-australias-assistant-minister-for-cities/ (Vision check: who is Angus Taylor, Australia's Assistant Minister for Cities?)
[2] Eric Sparke, 'Hudson, Sir William (1896–1978)', Australian Dictionary of Biography, National Centre of Biography, Australian National University, http://adb.anu.edu.au/biography/hudson-sir-william-10563/text18763, published first in hardcopy 1996, accessed online 27 October 2019.)
[3] https://www.afr.com/politics/federal/angus-taylor-lured-into-politics-then-left-to-languish-20141205-120jys (Angus Taylor: lured into politics then left to languish)
[4] https://www.angustaylor.com.au/hume-and-great-war-one-brother-dies-another-returns-home/
[5] Liberal Tilts at Expensive Wind Mills. https://stopthesethings.com/2013/02/26/liberal-tilts-at-expensive-wind-mills/
[6] Letter to Goldbourn Post https://www.goulburnpost.com.au/story/1696722/letter-the-exorbitant-costs-of-the-recs/
[7] 600 runners enter Run With The Wind. https://www.goulburnpost.com.au/story/1917498/600-runners-enter-run-with-the-wind/
[8] Conservative MPs rail against ACT wind energy plans
http://reneweconomy.com.au/2014/nsw-conservative-mps-rail-wind-farms
[9] NSW Registry of Births Deaths and Marriages
[10] https://www.theguardian.com/australia-news/2019/dec/02/naomi-wolf-accuses-angus-taylor-antisemitism-false-claim-about-oxford-university
[11] https://www.aph.gov.au/Senators_and_Members/Parliamentarian?MPID=231027
[12] https://www.crikey.com.au/2019/10/25/beginners-guide-angus-taylor/?fbclid=IwAR18y9XL7N7giwjtFJ3Fsws1O1JOf4ze8-LYM7EnpwZBscGL5jAxRHrLKrQ
[13] https://www.crikey.com.au/2018/08/31/tips-and-rumours-1648/
[14] https://twitter.com/KetanJ0/status/1114440613418557440
[15] https://www.theguardian.com/australia-news/2019/may/02/angus-taylor-says-he-did-not-set-up-caymans-structure-on-80m-water-buyback
[16] https://www.pedestrian.tv/news/people-are-trolling-angus-taylor-after-he-was-caught-praising-himself-on-fb/
[17] https://www.smh.com.au/politics/federal/labor-to-refer-angus-taylor-to-police-over-clover-moore-letter-20191024-p5340a.html
[18] https://www.theage.com.au/national/dear-angus-taylor-let-me-remind-you-of-our-encounter-at-oxford-and-why-it-matters-20191212-p53jkl.html?btis&fbclid=IwAR0SBzAhSpPDqFfQ4ocSh4nCJIgPL7QU77zbrXSylqK-R5WzcaB52BKOs7Q